During HX: The Hotel Experience—Rooms to Restaurants Show, we were ecstatic to find out that we won the annual TECHPitch competition, which recognizes new tech innovations in the hospitality industry. Woot, woot!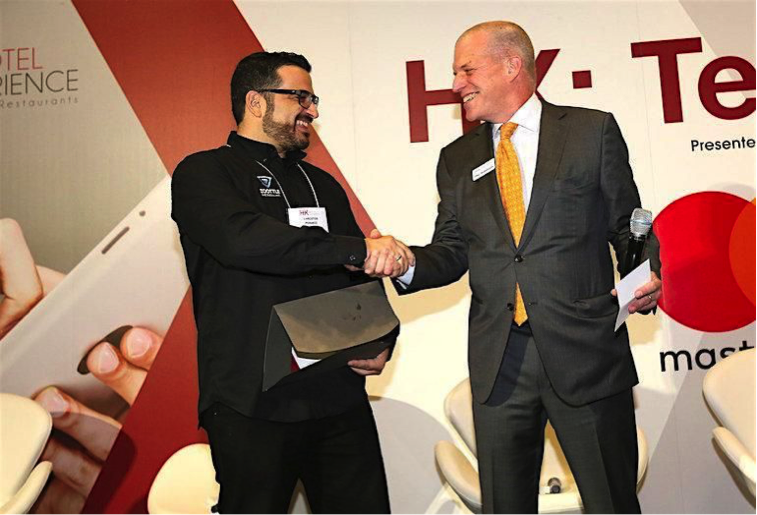 We were one of just eight finalists invited to pitch our unique solutions in a five-minute "Shark Tank" like presentation. Other TECHPitch finalists included: PurpleCloud Technologies; TacTac, powered by Casewise; Openkey; Evention; Knowcross; Crave Interactive; and Hiframe.
During the pitch, we showcased our game-changing AppLess App feature. This "no app required" technology allows a hotel to run its HTML5 app via any browser—whether that's a browser on a computer, tablet and/or smartphone.
And that's a game changer because we've found less than two percent of hotel guests download hotel apps.
Our own Christos Perakis, explained, "App discovery is a growing challenge for everyone—meaning it's hard to make your app stand out in the Apple App Store or Google Play." He added, "And app fatigue is setting in too. That means even if a user downloads an app, there's an increasing probability they'll quickly delete it if it isn't delivering value."
Since the AppLess app feature doesn't require a guest to download a hotel app, that means any hotel guest—not just the small percentage who may have downloaded the app—has access to all the features available in a hotel's app, like the ability to check-in, order room service, book spa services, or view local weather and area attractions.
Phil Robinson, Group Show Director for HX: The Hotel Experience said, "HX TECHPitch provided exhibitors a unique platform to present their story to the marketplace. In looking for that 'game changer' that benefits both the guest experience and the hotel operator's bottom line, Zoottle's pitch stood out with our judges."
Dahlia El Gazzar, Tech Evangelist, DAHLIA+, added, "Zoottle's technology solves a major issue hoteliers face—lack of app downloads—and turns it into an amazing revenue-generating opportunity for properties to cross-sell/upsell guests' during-stay services, and ultimately increase per booking revenue."
The award-winning AppLess App is the latest addition to our other core services:
GuestData which increases by ten-fold the number of emails hotels collect from their guests;
RecommendUs, an NPS-based, real-time guest satisfaction survey which boosts positive TripAdvisor reviews by 40 percent and decreases negative ones by 70 percent; and
GuestPromo which increases per/booking revenue 15 percent by providing promotional tools to upsell and cross-sell to guest during their stay.
But we haven't stopped with the HX TECHPitch win. Based on the judges' feedback and what we see across our global user base, we're continuing to enhance and expand our platform, aiming to make 2018 another record-breaking year.